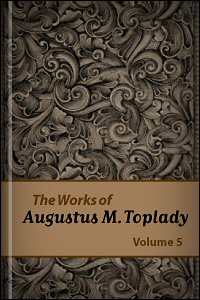 As a follower of Jesus, I am very much aware than any truly good deed that I do is a result of God's grace and the Holy Spirit at work in me.  I can't take credit for any good thing I've done; the credit goes to God.  Here's a great commentary by Augustus Toplady on predestination and how it glorifies God and humbles man:
When God does, by the omnipotent exertion of his Spirit, effectually call any of mankind in time, to the actual knowledge of himself in Christ; when he likewise goes on to sanctify the sinners he has called, making them to excel in all good works, and to persevere, in the love and resemblance of God, to their lives end; the observing part of the unawakened world may be apt to conclude, that these converted persons might receive such measure of grace from God, because of some previous qualifications, good dispositions, or pious desires, and internal preparations, discovered in them by the all-seeing eye: which, if true, would indeed transfer the praise from the Creator, and consign it to the creature.
In other words, when God sovereignly calls and regenerates sinners and begins to sanctify them, some unbelievers might think that God was kind to them because they did something to deserve it.  However, Toplady argues, that would mean the creature gets the glory instead of the Creator.  He continues:
But the doctrine of predestination, absolute, free, unconditional predestination, here steps in, and gives God his own [glory]. It lays the axe to the root of human boasting, and cuts down (for which reason, the natural man hates it) every legal, every independent, every self-righteous imagination, that would exalt itself against the grace of God and the glory of Christ. It tells us that God hath blessed us with all spiritual blessings in his Son; according as he hath chosen us in him, before the foundation of the world, in order to our being afterwards made holy and blameless before him in love (Eph. 1). Of course, whatever truly and spiritually good thing is found in any person, it is the special gift and work of God: given and wrought, in consequence of eternal, unmerited election to grace and glory.
I agree; not only does the biblical doctrine of predestination humble man, it also leads us to give God all the glory!
 Augustus M. Toplady, The Works of Augustus M. Toplady, vol. 5 (London: Richard Baynes, 1825), 289–290.
Shane Lems
Covenant Presbyterian Church (OPC)
Hammond, WI, 54015