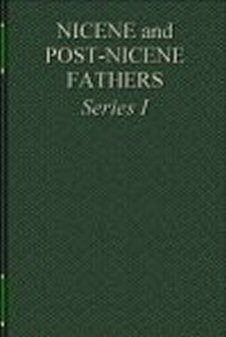 I enjoy reading Augustine's various writings.  Even though I don't always agree with him, his insight is helpful, his writing is stimulating, and he was gifted to explain the truth in a captivating way.  This morning when I was reading his comments on 1 John 3:23-24 I was struck by how Augustine spoke about the work and gift of the Holy Spirit in history.  He basically says that at first, the Spirit gifted God's people to speak in tongues (Acts 2 for example).  However, Augustine notes, that time is passed and now the evidence of the Spirit's work is in our love for one another.  Here are his comments:
In the earliest times, "the Holy Ghost fell upon them that believed: and they spake with tongues," which they had not learned, "as the Spirit gave them utterance" [Acts 2:4].  These were signs adapted to the time. For there behooved to be that betokening of the Holy Spirit in all tongues, to show that the Gospel of God was to run through all tongues over the whole earth. That thing was done for a betokening, and it passed away.

In the laying on of hands now, that persons may receive the Holy Ghost, do we look that they should speak with tongues? Or when we laid the hand on these infants [new believers], did each one of you look to see whether they would speak with tongues, and, when he saw that they did not speak with tongues, was any of you so wrong-minded as to say, 'These have not received the Holy Ghost; for, had they received, they would speak with tongues as was the case in those times?'

If then the witness of the presence of the Holy Ghost be not now given through these miracles, by what is it given, by what does one get to know that he has received the Holy Ghost? Let him question his own heart. If he love his brother, the Spirit of God dwelleth in him.  …Question thine heart. If love of thy brethren be there, set thy mind at rest. There cannot be love without the Spirit of God: since Paul cries, "The love of God is shed abroad in your hearts by the Holy Spirit which is given unto us."
 Augustine of Hippo, "Ten Homilies on the First Epistle of John," in St. Augustin: Homilies on the Gospel of John, Homilies on the First Epistle of John, Soliloquies, ed. Philip Schaff, trans. H. Browne and Joseph H. Myers, vol. 7, A Select Library of the Nicene and Post-Nicene Fathers of the Christian Church, First Series (New York: Christian Literature Company, 1888), 497–498.
Shane Lems
Hammond, WI, 54015