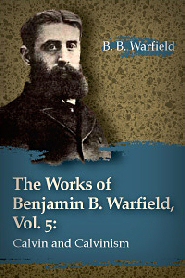 One part of Reformed theology is sometimes referred to as "Calvinsim" or, as I prefer, "the doctrines of grace."  Here's how B.B. Warfield nicely described the God-centered aspect of the doctrines of grace:
What lies at the heart of his [the Calvinist's] soteriology is the absolute exclusion of the creaturely element in the initiation of the saving process, that so the pure grace of God may be magnified. Only so could he express his sense of man's complete dependence as sinner on the free mercy of a saving God; or extrude [force out] the evil leaven of Synergism by which, as he clearly sees, God is robbed of His glory and man is encouraged to think that he owes to some power, some act of choice, some initiative of his own, his participation in that salvation which is in reality all of grace.

There is accordingly nothing against which Calvinism sets its face with more firmness than every form and degree of autosoterism. Above everything else, it is determined that God, in His Son Jesus Christ, acting through the Holy Spirit whom He has sent, shall be recognized as our veritable Savior. To it sinful man stands in need not of inducements or assistance to save himself, but of actual saving; and Jesus Christ has come not to advise, or urge, or induce, or aid him to save himself, but to save him. This is the root of Calvinistic soteriology; and it is because this deep sense of human helplessness and this profound consciousness of indebtedness for all that enters into salvation to the free grace of God is the root of its soteriology that to it the doctrine of election becomes the 'cor cordis' [heart of the heart] of the Gospel.
He who knows that it is God who has chosen him and not he who has chosen God, and that he owes his entire salvation in all its processes and in every one of its stages to this choice of God, would be an ingrate [ungrateful person] indeed if he gave not the glory of his salvation solely to the inexplicable elective love of God.
Benjamin B. Warfield, The Works of Benjamin B. Warfield: Calvin and Calvinism, vol. 5 (Bellingham, WA: Logos Research Systems, Inc., 2008), 359–360.
Shane Lems
Covenant Presbyterian Church (OPC)
Hammond, WI