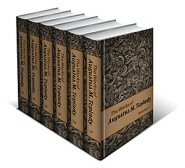 I always like reading the original words of the solid hymns we know and love.  As I was looking through Augustus Toplady's hymns in volume 6 of his Works I recently came across "How Vast the Benefits Divine."  Here are the original words, which are based on 2 Timothy 1:9 – He has saved us and called us to a holy life — not because of anything we have done but because of his own purpose and grace. This grace was given us in Christ Jesus before the beginning of time… (NIV).
  1      HOW vast the benefits divine,
Which we in Christ possess,
Sav'd from the guilt of sin we are,
And call'd to holiness.
   2      But not for works which we have done,
Or shall hereafter do;
Hath God decreed on sinful worms,
Salvation to bestow.
      3      The glory, Lord, from first to last,
Is due to thee alone;
Aught to ourselves, we dare not take,
Or rob thee of thy crown.
     4      Our glorious surety undertook
To satisfy for man,
And grace was given us in him,
Before the world began.
        5      This is thy will, that in thy love
We ever should abide,
And lo, we earth and hell defy,
To make thy counsel void.
    6      Not one of all the chosen race,
But shall to heav'n attain;
Partake on earth the purpos'd grace,
And then with Jesus reign.
        7      Of Father, Son, and Spirit, we
Extol the threefold care,
Whose love, whose merit, and whose pow'r,
Unite to lift us there.
Augustus M. Toplady, The Works of Augustus M. Toplady, vol. 6 (London; Edinburgh: William Baynes and Son; H. S. Baynes, 1825), 415.
Shane Lems