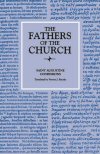 You may heard Augustine's famous answer to the following question: "What was God doing before he made all things?"  Answer: "Making hell for people who ask about such things."  In fact, Augustine actually didn't like that answer; it was not his answer.  Here's the section in his Confessions where he mentions it (XI.xii [14]):
Here is my answer to him who says: 'What did God do before He made heaven and earth?'  I do not give that answer which some man is said to have offered as a jest, evading the force of the question: 'He was making hell ready,' he said, 'for those who pry into these deep questions!' It is one thing to see; quite another thing to laugh. This is not my answer. Now, I should much prefer to reply: 'I do not know,' when I really do not know, than [to accept] the answer which gives occasion to ridicule a man who asked a profound question and commendation of one who gave a false answer.
But, I say that Thou, our God, art the Creator of every creature, and, if every creature be understood under the name, heaven and earth, then I make bold to say this: before God made heaven and earth, He did not make anything….
Shane Lems
Hammond, WI