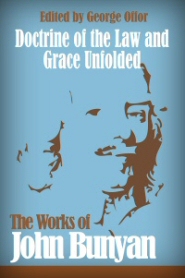 Some people wrongly think that to go to Jesus they need to first get their ducks in a row, their life cleaned up a bit, or turn over a new leaf.  I appreciate how John Bunyan corrects this wrong thinking:
This is a legal and old-covenant [i.e. covenant of works] spirit that secretly persuades the soul that if ever it will be saved by Christ, if must be fitted for Christ by its getting of a good heart and good intentions to do this and that for Christ.  I say, that the soul when it comes to Christ may not be rejected or turned off; when in deed and in truth this is the very way for the soul to turn itself from Jesus Christ, instead of turning to Him; for such a soul looks upon Christ rather to be a painted Savior or a cypher than a very and real Savior.

–

Friend, if thou canst fit thyself, what need hast thou of Christ? If thou cant get qualifications to carry to Christ that thou mightst be accepted, thou dost not look to be accepted in the Beloved. Shall I tell thee? Thou art as if a man should say, 'I will make myself clean, and then I will go to Christ that He may wash me'; or like a man possessed, that will first cast the devils out of himself, and then come to Christ for cure from Him.
If we don't need to clean up our act before we come to Christ, how then can we come?
Thou, must, therefore, if thou wilt so lay hold of Christ as not to be rejected by Him; I say, thou must come to Him as the basest in the world, more fit to be damned, if thou hadst thy right, than to have the least smile, hope, or comfort from Him.

 –

Come with the fire of Hell in thy conscience, come with thy heart hard, dead, cold, full of wickedness and madness against thy own salvation; come as renouncing all thy tears, prayers, watchings, fastings; come as a blood-red sinner; do not stay from Christ till thou hast a greater sense of thy own misery, nor of the reality of God's mercy; do not stay while thy heart is softer and thy spirit in a better frame, but go against thy mind, and against the mind of the devil and sin, throw thyself down at the foot of Christ, with a halter about thy neck, and say, Lord Jesus, hear a sinner, a hard-hearted sinner, a sinner that deserveth to be damned, to be cast into Hell; and resolve never to return, or to give over crying unto Him, till thou do find that He hath washed thy conscience from dead works with His blood virtually, and clothed thee with His own righteousness, and make thee complete in Himself; this is the way to come to Christ.
 –
Shane Lems
Covenant Presbyterian Church (OPC)
Hammond, WI