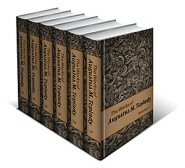 I've recently been enjoying the writing of Augustus Toplady (d. 1778).  As you may know, Toplady wrote "Rock of Ages" and "A Debtor to Mercy Alone."  He was a defender of the doctrines of grace and debated John Wesley's Arminianism.  Here are a few sections from his sermon on Ps. 115:1 (Not to us, LORD, not to us, but to your name be the glory, because of your love and faithfulness. NIV).  In this first section, he compares idolatry to relying on one's works/righteousness for justification:
But let me ask, If it be so very absurd to worship the work of other men's hands; what must it be to worship the works of our own hands? Perhaps you may say, "God forbid that I should do so." Nevertheless, let me tell you, that trust, confidence, reliance, and dependence for salvation, are all acts, and very solemn ones too, of divine worship: and upon whatsoever you depend, whether in whole, or in part, for your acceptance with God, and for your justification in his sight; whatsoever you rely upon, and trust in, for the attainment of grace or glory; if it be any thing short of God in Christ, you are an idolater to all intents and purposes.
Here's a note on God's glory in salvation:
And thus will it be, when God has accomplished the number of his elect, and completely gathered in the fullness of his redeemed kingdom. What, do you think, your song will be, when you come to heaven? Blessed be God, that he gave me free-will; and blessed be my own dear self, that I made a good use of it? O no, no. Such a song as that was never heard in heaven yet, nor ever will, while God is God and heaven is heaven. Look into the Book of Revelation, and there you will find the employ of the blessed, and the strains in which they sing. They cast their crowns before the throne, saying, Thou art worthy, for thou wast slain, and hast redeemed us to God, by thy blood, out of every kindred and tongue and people and nation (a). There is discriminating grace for you! Thou hast redeemed us out of every kindred, etc. that is, from (b) among the rest of mankind. Is not this particular election, and limited redemption?
Finally, here's Toplady on the "rust" of self-righteous pride and how we lose it when we enter glory:
I will venture to assert, that not one grain of Arminianism ever attended a saint into heaven.  If those of God's people, who are in the bonds of that iniquity, are not explicitly converted from it, while they live and converse among men; yet do they leave it all behind them in Jordan (i. e. in the river of death) when they go through. They may be compared to Paul, when he went from Jerusalem to Damascus, and the grace of God struck him down: he fell, a free-wilier; but he rose a free-gracer. So, however the rust of self-righteous pride (and a cursed rust it is: may God's Spirit file it off from all our souls) however that rust may adhere to us at present; yet, when we come to stand before the throne, and before the Lamb, it will be all done away, and we shall sing in one full, everlasting chorus, with elect angels and elect men, Not unto us, O Lord, not unto us.
Augustus M. Toplady, The Works of Augustus M. Toplady, vol. 3 (London: Richard Baynes, 1825), 163-4, 168-9.
shane lems
hammond, wi