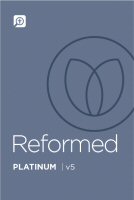 I have to be honest; three months ago I didn't know anything about Logos Bible software. I had been using the basic BibleWorks 6 package since 2004 solely for the purpose of helping me translate texts for preaching and teaching. So when the Logos Reformed team contacted me to do a review, I was happy to test another electronic resource for biblical and theological study.
Logos has quite a few different Bible software packages one can purchase – basic packages to extensive packages which include various books, lexicons, Bible dictionaries and much, much more. Scores of e-books from various traditions (Catholic to Charismatic to Calvinistic) are also available in various packages or purchased separately. I recommend visiting the website to view the different packages and books available for purchase. The amount of materials available is absolutely staggering! I'm happy to have Herman Bavinck's Dogmatics, Thomas Boston's Works, many of Augustine's writings, and the Nicene/Post-Nicene Fathers collection, in my Logos library (just to name a few).
I use the Logos software on a PC that is a few years old (Logos runs on Mac as well), so it lags a bit. Further, it did take some time to download, but I appreciate the fact that I can use all the resources when I'm offline (though, of course, one must be online to receive the free updates). Also, Logos has a free app (I use Android but an iOS app is also available) that syncs with the desktop version. I hope to review the app at a later date.
If a person is familiar with other Bible software on PC, it will not be overly difficult to learn the basic commands and searches in Logos. The fonts (including Greek and Hebrew) are handsome and readable. Logos also has many different printable resources – charts, graphs, word studies, outlines, etc. The home screen is highly customizable; I use four different panels (one for the Bible, one for lexicons/dictionaries, one for definitions, and one for study resources).
There is also a very powerful search engine with which one can search the Bible as well as any and every Logos e-book in one's library. For example, when studying "the goodness of God," my search gave me all the Bible references to goodness, illustrations about God's goodness, cross references about goodness, lexicon/dictionary entries on goodness, and all the places my e-books mentioned God's goodness (i.e. in Calvin's commentaries, TDNT, Berkhof's writings, Muller's Post-Reformation Reformed Dogmatics, Aquinas' Summa, the Westminster Standards, and other such e-resources). I appreciate the fact that my studies can be streamlined in this way!
I also appreciate the extensive "how to" lessons available at Logos' website. There are many videos, articles, and discussion forums that help one learn more about using the software. I've had to look for help in a few areas already. There are so many different aspects of Logos; no doubt every user will have questions about the software. Thankfully, answers are relatively easy to find. If one might ask the question: "Can Logos do this or that?" the answer is most likely "Yes," but it will take some effort and experimenting to get it done. To get the most out of Logos software, I recommend taking several days to watch the videos, read the tutorials, and spend some time working in Logos and trying out the various resources, tools, and settings.  (Note: I've had to contact customer software to ask a question, and the service was outstanding.)
I do wish the Reformed Platinum package came with BDAG and The Treasury of Scripture Knowledge, and I wish there were more English Bible translations in the package (it didn't come with the NIV, the NLT, or the Tyndale Bible, for a few examples). I also wish there was a "simple" button that one could click for a basic, non-cluttered screen to study a passage, using only lexicons and commentaries. Of course, it is customizable enough to make a layout like this, but doing so takes some time and knowledge.
One more aspect of Logos that might make many pause is the price of the software (prices as of July, 2014). The prices range from under $100 to over $2,000. There are usually decent sales and discounts at Logos (and payment plans), but many full priced e-books on Logos are just as expensive as print versions. Although everyone differs, I'd rather read a print copy than an electronic version of a book, so spending significant money on e-books is something I typically don't do. In fact, sadly many of the e-books I have on Logos are ones that I will never read since there are so many and since I dislike reading books on a screen. Alternatively, this Reformed package would be a great blessing for those on the mission field who cannot carry their libraries around.  Churches could perhaps "gift" this software to their missionaries and church planters.
One final point worth mentioning – and this is more aimed at the users – is the fact that Bible software must be used with caution and wisdom. Electronic resources save time, but they also take away some of the intellectual work that scholars have done in the past (i.e. reading through the pages of a lexicon to find the word, or reading many pages to find a single concept, etc.). Users of Bible software must not, for example, assume they are experts in patristics if they only read a paragraph or two of Augustine and Cyril for sermon prep. It is very tempting to take too many shortcuts when working with Bible software, so students and scholars must be aware of this in order to stay intellectually sharp and balanced. As with all useful tools, Logos must be used rightly.
In summary, Logos Bible software is a premium tool for Bible and theological studies as well as sermon preparation. Used rightly, this tool will help Bible students for years to come. I've made the switch from BibleWorks to Logos, since Logos, in my opinion, is superior (hands-down). It has already helped my studies in various ways!  Again, this review is too brief, and it is impossible to fully explain Logos in a review, so I recommend exploring the Logos website (www.logos.com) to learn more about this excellent resource. Finally, by following the link, our readers will receive a discount on Reformed packages.
Feel free to ask questions about the software; I'll do my best to answer.
rev. shane lems
covenant presbyterian church (OPC)
hammond, wi